Ever since its launch in India, Netflix has been one of the most efficient and highly popular O.T.T. platforms. One of the significant reasons why Netflix thrives worldwide is because it has something for almost every audience. You can expect some of the best movies and T.V. shows from every genre on Netflix. From hacks that let you customize your subtitles to having access to Netflix content from all around the world, here are a few Netflix Tricks that add to your holistic viewing experience.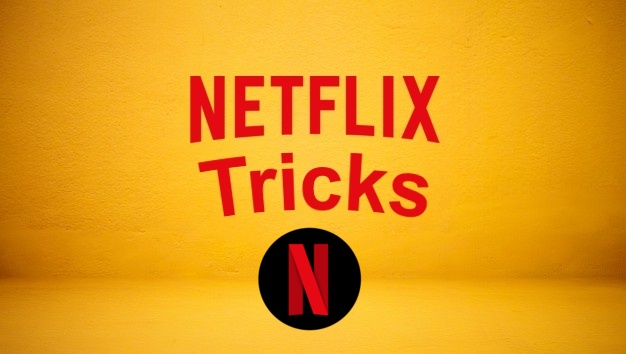 Netflix Tricks
Netflix is more than just a streaming service with well over 100 million global subscribers, where you can catch up on the latest original movies, check out the newest buzzed-about show, or chill for the hundredth time with an old favorite. Indeed, the service is like a LEGO set to be tinkered with and worked on for those truly devoted Netflix fans. You can really make Netflix work for you, by using the new hacks. Below are some hints, tricks and "hacks" that will drastically enhance the Netflix experience.
Netflix Roulette
A significant part of digital trends in 2020 is 'Roulettes.' From 'What is your spirit animal?' to 'Which Brooklyn 99 character are you?" essential question in today's times, i.e., "Which Netflix show should I watch?"
How many countless F.R.I.E.N.D.S. reruns can you have? What if you're missing out on a classic sitcom just because Netflix isn't recommending it or you can't decide which show to watch. With an endless variety of content, that shouldn't be necessarily true, skip the tedious decision making and leave it all to this 'Netflix roulette.' All you have to do is select a genre, and wait for a suggestion to roll in. What's better is that if you are feeling a little experimental, you can also play around with the IMDB ratings that you would prefer. With this hack, you can make the best use of Netflix.
Netflix from All Around the World
There's always more than what meets the eyes. Always. Unfortunately, it's right for Netflix too. Did you know that Netflix U.S.A. has around 1580 shows, but Netflix India has only 1364 shows? But here's a fact, the cost of Netflix U.S.A. = the cost of Netflix India. You shouldn't have to pay for more than what you get.
Here's one of the essential hacks. Websites like flixed.io let you see the content that Netflix is streaming across various regions, or you could use a VPN while accessing it on your chrome devices. Many efficient, reliable VPNs let you do so for free! So you can get the best of Netflix. You read "Netflix Tricks" at nob6.
Netflix Party
Imagine that you and your significant other manage to watch a show together despite the distance. Even then, it becomes practically impossible for you to keep up with each other every second. One of you has taken too many breaks, and now you are ahead, you already know that Katekar is killed, but now you've got to wait for them before to catch up, and you can grieve together.
It is incredibly irritating and tests all levels of patience. Netflix party is an all time saver when it comes to this. Here's how it works: Install Netflix party, play a Netflix video, and then join or create your party. That's all it takes to Netflix together in real-time. After all, a couple that binges together stays together!
Never Ending Netflix
It's a weekend, and you're going to be binging on shows for as long as you can. It's the only time you get to yourself, and the last thing you need is Netflix asking, "Are you still watching?". Just add this extension to your chrome while you are watching Netflix and binge with 'Never Ending Netflix. Whereas Netflix downloader allows you to download select TV shows and movies from Netflix limitlessly on devices.
Know these Shortcuts
Well, you don't always have to tread the long path. With these keyboard shortcuts, life will be a *little* easier. Maximum of us already know and use these shortcuts, but a lot of these might come handy for a more convenient viewing experience
F- fullscreen

Esc – take you out of it

PgDn- pauses

PgUp- plays

Shift + Right Arrow- fast-forward

Shift + Left Arrow- rewind

M- toggle your mute button
Recover from Outlook Error 'Exchange is Currently in Recovery Mode' With Ease
Subtitles
One of the most important things, while you are catching up with your favorite Hispanic show, is the subtitles. This last hack is one that even the most ardent connoisseurs of Netflix might not be aware of the fact that you can customize your captions to look as elegant or funky as you want.
Here's how to do it: –
Go to 'Your Account,' after which you will have to click on 'Your profile,' and one of the many options is 'Subtitle Appearance.' You will genuinely be surprised by the toying around that it lets you do.

Let your Netflix subtitles be customized as you like. Who's judging anyway?