Social Media Marketing Strategy: As is the case with any other aspect of business, if you want to get your social media marketing right, you need to have a strategy. Without one, you'll likely end up posting for the sake of posting, which will make it challenging to understand your goals and achieve any tangible results.
Whether you're looking to boost your brand's presence on social media or become a better social media marketer overall, creating a well-thought-out social media marketing strategy is an essential first step.
We discussed this topic with our friends from a leading New York web design company and came up with a few social media marketing strategy tips and tricks. Check them out below!
How to Create a Social Media Marketing Strategy?
Before you can start building your social media marketing strategy, you'll need to figure out a few things. Consider asking yourself the following five questions:
Why do you need social media?
Who is your target audience?
What will you post?
Which social media platforms will you use?
We'll discuss each of these questions in more detail below. Let's start!
Why Do You Want to Be on Social Media?
The first question you need to answer in your social media strategy, just like in most things in life, is "why?" Philosophy aside, in this particular instance, the question pertains to your social media goals. Are you looking to serve your customers, drive traffic to your website, or promote your products? How about all of the above?
Roughly speaking, there are eight social media goals you can strive towards. They are:
Increasing brand awareness
Driving traffic to the website
Generating leads
Increasing sales and signups
Boosting engagement
Building a robust community
Providing customer service
Listening to people's opinions of your brand
Don't be fooled into thinking you need to pick just one goal. In fact, we strongly encourage you to have more than one, but we also believe it is better if you focus on a few at a time. If you can afford to outsource your social media marketing efforts or have a large enough team, you can probably take on more than two or three goals at a time, but we recommend starting small.
For example, you can start by focusing on increasing brand awareness and driving more traffic to your website content. In time, you can expand your efforts to include customer support and so on.
Who Is Your Target Audience?
Once you have your "why," it's time to move on to "who." More specifically, it is time to answer the question, "Who is your target audience?"
Understanding the people that you're trying to target with your marketing will be crucial in answering the questions that follow, namely, what you're going to post and which networks you want to use.
For example, if you're starting a travel agency, your target audience will likely be interested in reading about travel tips and interesting places to visit. The best way to reach this audience is probably by posting infographics and destination photos on Instagram.
To truly understand your audience, you'll want to create a few marketing personas. These fictional people are your "ideal" customers, and the best way to create them is, again, to answer a few questions:
Who are they? — Consider their age, job title, location, salary, gender, etc.
What can you offer them? — Think of what they might be interested in that you can provide through social media. This can include information on new products, case studies, educational content, entertainment, etc.
Which social media platforms do they use?
At what time of day are they most active on social media?
Even if you're starting a new business, you probably don't have to start from scratch. Looking at your competitors, you can probably get a good sense of the type of people who will be your target audience. Don't be afraid to dig around the social media profiles of the different companies in your niche and learn more about their most engaged followers.
What Will You Post?
Upon seeing this question, your instinct may be to think of what type of content you'll be sharing, such as images, text, or video. However, since this is your social media marketing strategy, you might want to look at things from an even higher vantage point.
Instead of the type of content that you will be posting, think about the theme of your social media channels. We'll illustrate what we mean through a few examples:
Aside from posting stylish photos of its products, the luxury couch brand, Burrow, uses its Instagram profile to post memes.
The Facebook profile of the adventure and outdoor brand Huckberry is rife with high-quality photos of the outdoors and editorial content.
The underwear brand, MeUndies, shares photos of its products and user-generated content in the form of its customers' photos wearing the underwear on Instagram.
Obviously, none of these brands sticks to one theme for every post. There are overarching ideas, but diversifying your profile is also essential if you want to keep your audience engaged. Having three or four themes is perfect, as it allows you to share a wide range of content while remaining relatively focused.
A clear understanding of your target audience will be a tremendous asset here. Have another look at your marketing personas and consider the following questions:
What are their goals?
How can your product or service help them reach these goals?
So, suppose you're running a fitness apparel brand, for example. In that case, it is perfectly acceptable to heavily focus on your products on all your social media profiles, as your audience's goal is likely to stay up-to-date with the latest fitness apparel.
Which Social Media Platforms Will You Use?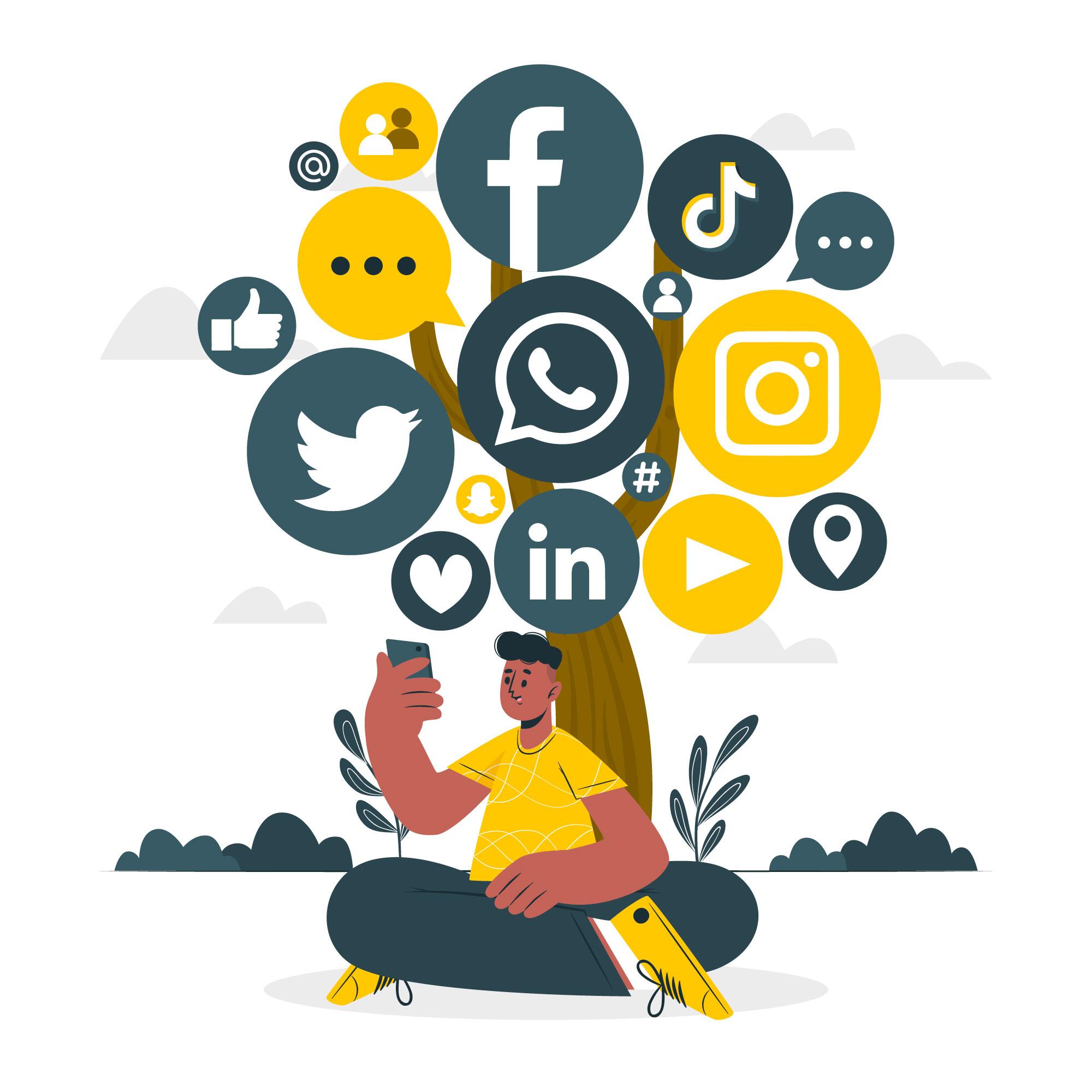 The final step in this guide is to determine where you're going to share your content. Remember, your brand doesn't need to be on every social network out there. Your presence on a platform should depend entirely on whether your target audience frequents the platform in question.
That said, you'll probably want to have a profile on the social media Big Four — Instagram, Facebook, LinkedIn, and Twitter. These often appear on the first page of SERPs when people search for your brand by name, aside from your website.
We've already mentioned that your understanding of your target audience is essential here. Think about which platform your prospects are most active on and why. For example, if you're targeting teenagers and young adults, you'll probably want to look into TikTok, as this network is hugely popular among this age group.
However, you'll also need to consider your ability to create content for the particular platform you want to use. Different platforms lend themselves well to different content types. For example, if you're great at photography, you'll probably want to create a profile on Instagram, while if long-form videos are your forte, you'll likely do well on YouTube.
Although social media platforms are evolving to accommodate almost any type of content, this distinction is still relevant, so consider your strengths and weaknesses beforehand.
Closing Thoughts
Creating a great social media strategy is not easy. It requires you to take a step back and look at the big picture, shifting your mind away from individual tasks like replying to comments, scheduling posts, etc.
That said, if you can pull it off, a well-made social media strategy can be hugely rewarding, as it will help you achieve specific business goals rather than simply posting for the sake of it.
Image Credit – www.freepik.com