Everyone wants to do government jobs in India today because everyone thinks that if they have government employment, then they will make their life good and happy. Yet most applicants face challenges looking for and applying for government job vacancies. Aspirants who are preparing for government jobs are unsure about choosing the best websites that have the right information about India's latest government jobs.
In fact, instead of being government websites, these pages are all personal blogs that make you informed of India's latest and hot Govt Job Vacancies. So, look at these top 10 sites to check for India's Sakari Naukri.
Best Website for Latest Government Jobs Notifications
Here are the listings of the top 10 websites that provide the latest Government Jobs Updates in India. You will search all the specifics of upcoming job vacancies in government, results, mock tests, and admit cards for specific jobs. The study content, Current Affairs update, GK, and mock exam, which helps students prepare for government employment, are also given by some career portals. So, you can get information about the Top 10 Job Portals in India in this post, where you can browse for a free job.
eJobmitra is one of the best govt job portals in India for the last 4 years. eJobMitra provides Free Job Alert Rajasthan for free. eJobMitra provides nicely designed and very clear information about the latest govt jobs. You can download a mobile application for this website to update regularly on your mobile.
2. BharatResults.com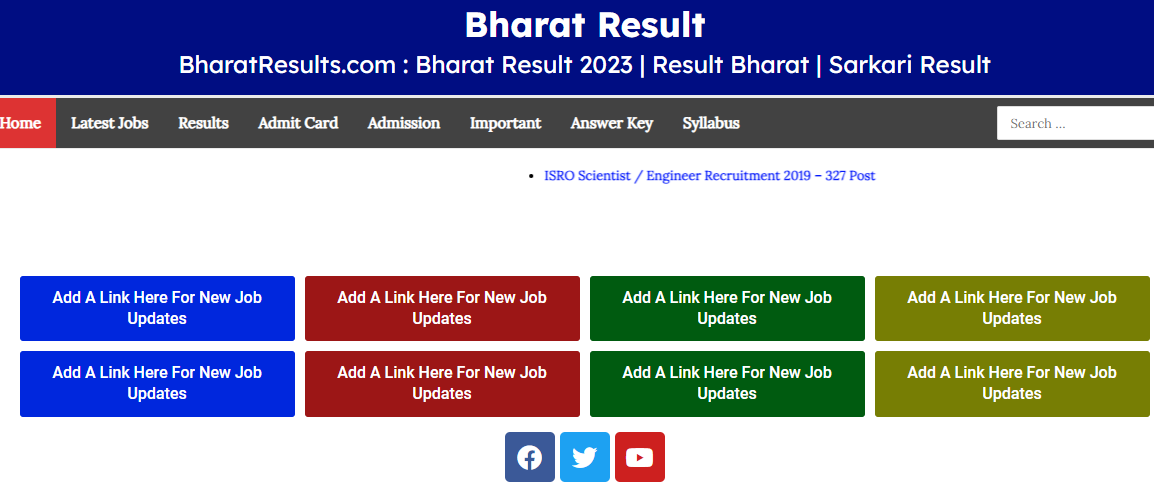 Bharat Results is a unique online portal for education that lets students study for various competitive exams and tells them about new government jobs as well. With a pan-India presence, Bharat Result has a wide reader base.
3. Naukri.com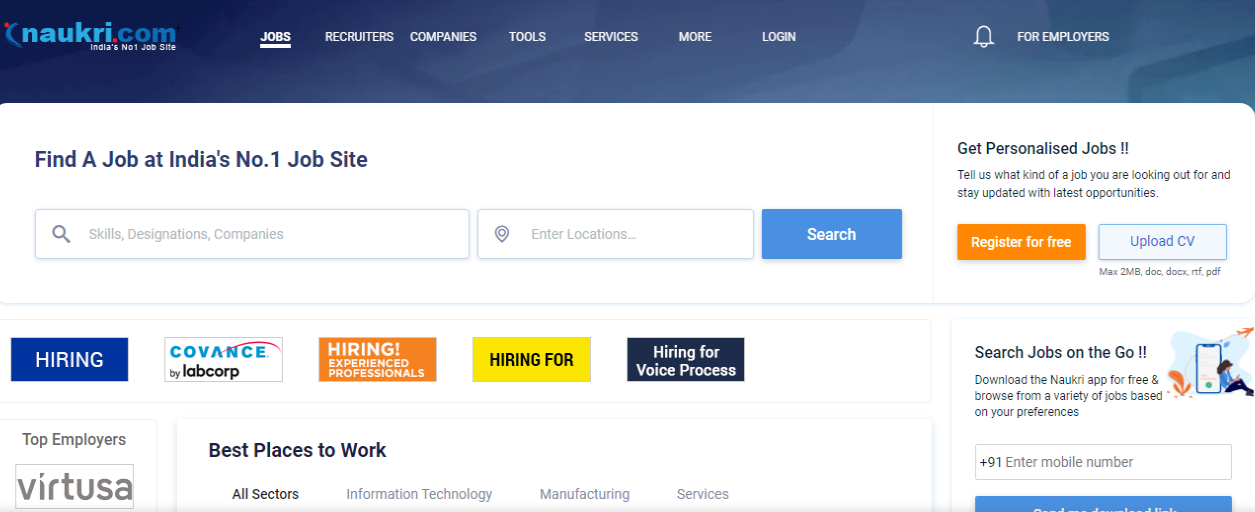 Naukri.com is the trusted and oldest website for the latest government job updates in India. Here candidates may apply for private and govt jobs. For all types of employment vacancies, it is almost like a search engine. You can find various types of jobs here by choosing your position and category of employment, etc. You should register and get the latest job updates on this blog.
Must visit – Digital Address Code
4. Free Job Alert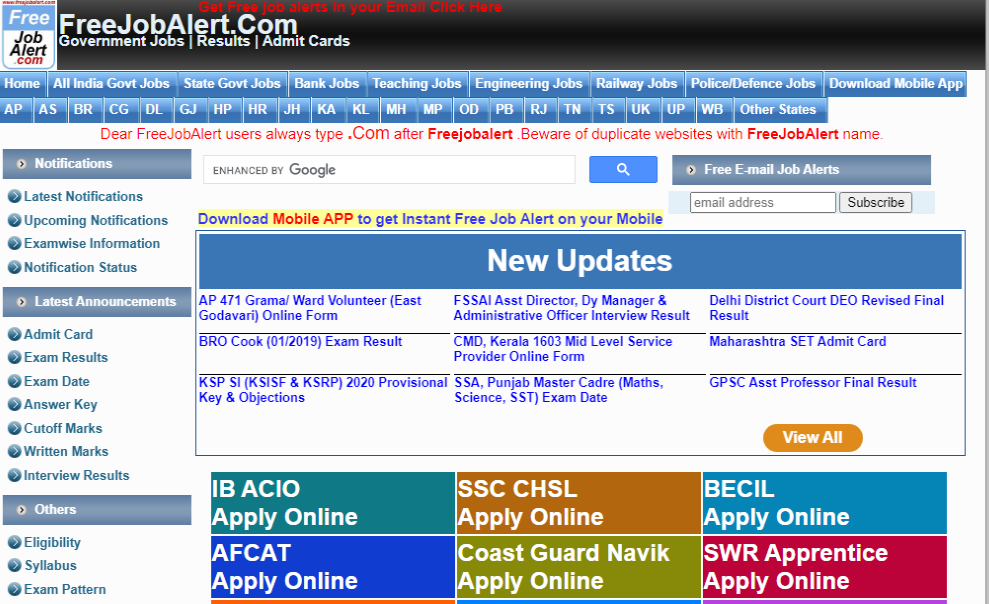 In order to look into the new government jobs and other similar updates, I personally like the Free Job Alert website. It is also an Indian website for seeking work categorized into numerous categories. There are different types, such as government employment, banking jobs, IT jobs, railway jobs, etc.
5. Sarkari Naukri Blog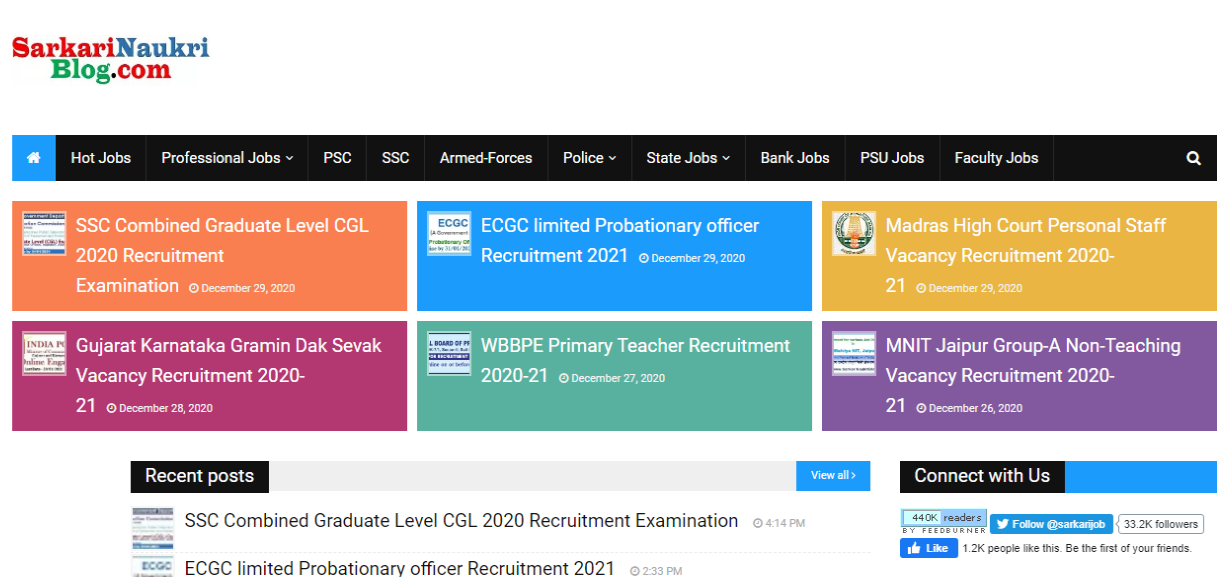 SarkariNaukriBlog.com, founded in 2006 by Manisha Sharma as Sarkari Naukri Blog, has come a long way from its establishment in Delhi. Sarkari Naukri Blog is a fantastic website to find the latest and hot govt jobs in India. It looks in a rough manner but contains useful and valuable content of your purpose. So, I hope you'll like this Sarkari Naukri blog.
6. Sarkari Results Info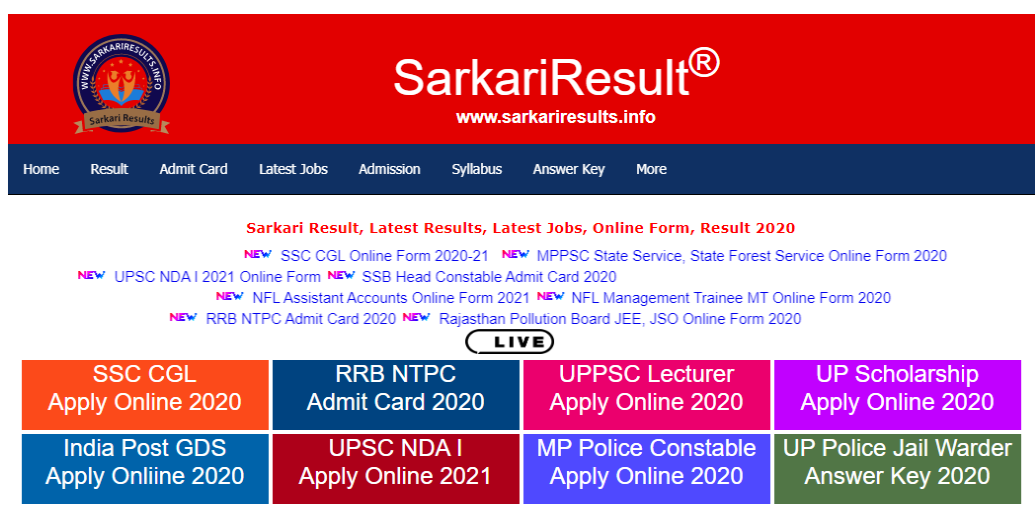 This is identical to the previous two portals, but it also lists other services that are not linked to government examinations, such as Pan card tracking. I have heard some people claiming it's an official government site, but no, it's not an official Indian government site. This is a career site that supports students involved in employment in the government sector as well as jobs in the private sector.
It has proper categories such as government employment, railway jobs, defense jobs, etc. so you can conveniently find the job as per your requirement. It also has a result category where the outcome of any government job recruiting may be reviewed.
7. Employment News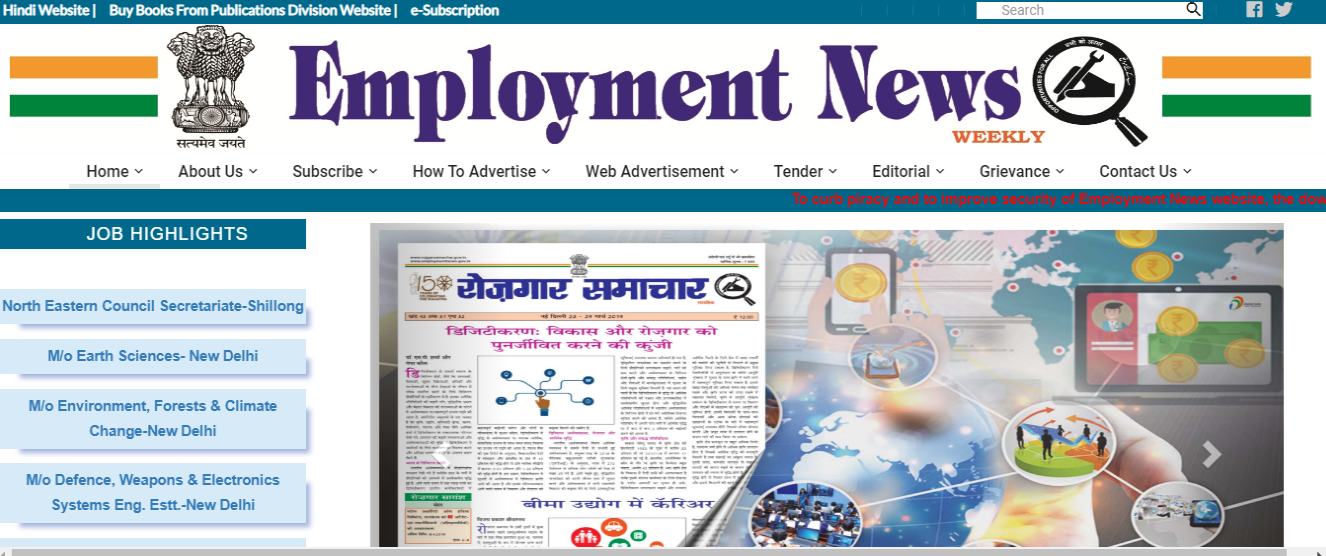 You should subscribe to their free job updates or track their social media accounts while searching for government positions on career journals or blogs and get updated on every job post. Often, by promising to land government jobs, beware of bogus websites of the same name or domain that are out there to dupe candidates and make fast money.
8. Recruitment Guru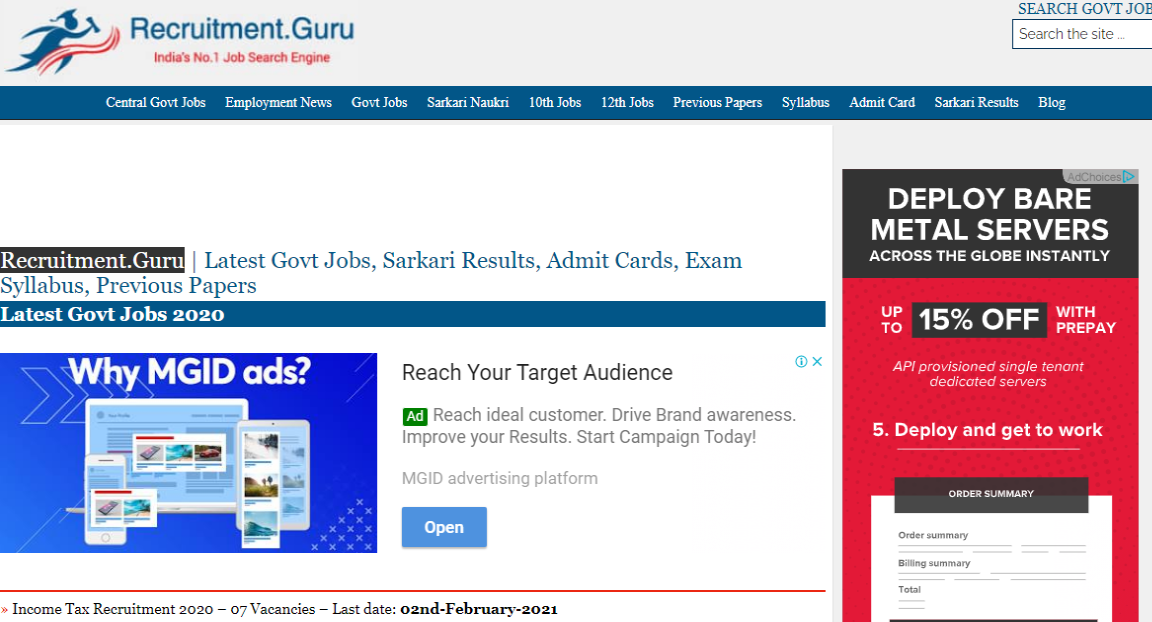 There are a few websites that have done great work by notifying people of the new & upcoming Govt Employment notifications. I have recently found one platform, Recruitment Guru, which has been in the industry since God's time by providing individuals across India with free govt job updates.
9. Sarkari Result Naukri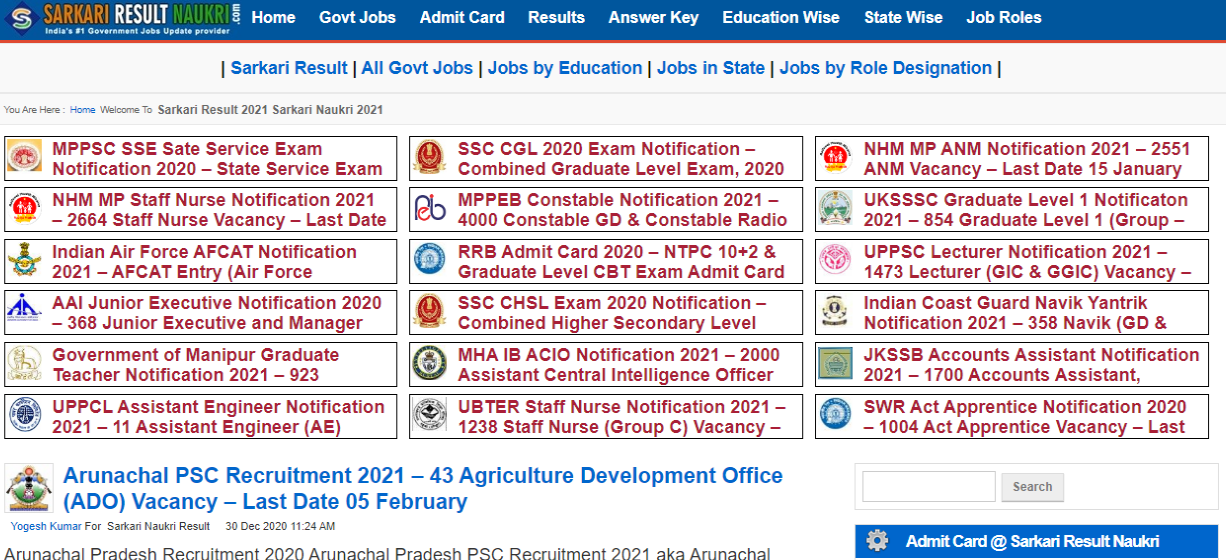 As its name suggests, this website provides you with daily news on all the current government employment across India. With thousands of positions in different categories, Sarkari Result Naukri is a successful career portal platform. This platform also provides you with all the required items such as syllabus, current affairs, answer key, online book, admission pass, etc., along with the regular dose of govt employment for your govt work exam preparation.
10. Adda 247
Starting in 2016, Adda247 is India's largest catering site with more than 40 million users per year. In terms of use among all educational apps in India, Adda247 App is ranked the #1 Android App (as per the latest similarweb.com rankings).
Benefits of online job portals delivering jobs for governments in India
On-time Upgrade: Aspirants should update any new or future jobs on time for publication. You will get work notice on the official website within hours of the update on any forthcoming government jobs.
Pretty Much Accessible: I.e. very affordable & cost-effective are the main advantages of online job portals. Without having to pay any charge to the job portal, aspirants may look for recent or upcoming government jobs in any sector.
Get daily notifications: Online job portals offer frequent notice on a regular basis about any forthcoming government employment. All notifications such as test timetable, admission card release date & declaration of results, etc. will be issued to you. You can Subscribe to free job alerts here from a very real Sarkari result website.
Maintain authenticity: authenticity among the aspirants is preserved by these work pages. Along with official connection & notification for the application for government employment, it often provides accurate & genuine information.
Full Relevant Information: These job websites have the correct job information. Before applying for any upcoming government jobs, aspirants will get all the information such as post name, number of vacancies, age limit, educational qualification, application fee, salary package, etc. Candidates must review the specifics of the commercial before applying.
Beware of False Advertisements: These job sites are aware of fake government job advertisements for aspirants. On its job portal, a few websites post bogus job ads. Therefore, students should still be mindful of misleading advertising or reports about government employment.
Career Pathways: These sites direct applicants by telling them of deadlines, eligibility & other requirements for the entrance exams (engineering, medical, law, management, etc.). They produce papers that encourage student to choose what area they are interested in and what tests or professional advancement they need to fulfill their career objectives.
Mobile Applications: Not only a platform that allows users to browse for jobs but there are also mobile apps available in the play store or iOS store for gov exam preparation that provide your fingertips with information.
Click Here to Read HINDI NEWS