Top 5 Contact Form Plugins for WordPress: Are you looking for the best Contact Form plugin, So you are on the right place this is the full and best guide about Contact Form plugin.
Not sure which one of the plugins for the 1500 + WordPress contact form to use? We have hand-picked the 5 best WordPress contact form plugins in this article and compared their pros and cons, so you can easily add a WordPress contact form.
In this post, we will compare the Top 5 Contact Form Plugins for the contact form to help you select the most appropriate form creator for your needs.
How to Start a Blog – Free Guide for Setting up Your WordPress Blog
Top 5 Contact Form Plugins for WordPress
So let's start over the list of Top 5 Best Contact Form plugin of WordPress.
1. Contact Form 7
This is one of the best WordPress plugins for Contact Form so that is why every second WordPress website is using this plugin and this is absolutely free and available on the WordPress plugin store.
👍 pros
Price is probably the most important benefit of using Contact Form 7. You're free to install it on as many sites as you want.
There are numerous third-party plugins that act as add-on plugins such as Contact Form 7. The majority of them are available for free.
👎 cons
Contact Form 7 is a below-average solution for creating a basic contact form for your own blog. It is very difficult to install for absolute beginners. The user interface isn't intuitive at all.
because it is a free plugin, support options are limited.
2. Ninja Forms
Ninja Form is a freemium contact form plugin for WordPress. It may be used to make highly interactive type with hardly any effort.
👍 pros
The base plugin for Ninja Forms can be obtained for free in the official WordPress repository. This means you can download and install it on as many websites as you'd like.
You will find premium extensions that allow you to extend Ninja Forms functionality, for example, linking with Campaign Monitor, Freshbooks, Salesforce, SMS notifications, etc..
👎 cons
Though the main plugin can be obtained free of charge, the extensions aren't. Buying a couple of extensions or the programmer package will cost you the exact same amount as WPForms or Formidable Forms.
3. WPForms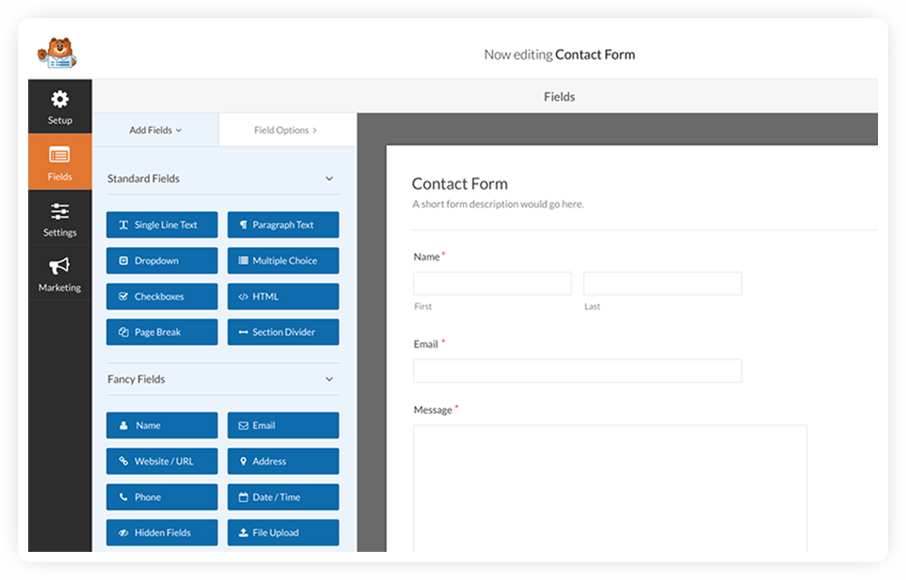 This is also one of the best contact forms. WPForms are usest almost 20 present of the WordPress website. this is the most powerful and easy-to-use plugin and its interface is also a very userfriendly plugin.
👍 pros
WPForms is very easy to use and it also has a drag and drops option and user-friendly interface.
WPForms Lite is available for free in the official WordPress plugin Store/directory
👎 cons
While the lite version is free, you have to upgrade to WPForms Guru to unlock more powerful capabilities.
Though WPForms is powerful, the #1 purpose of the plugin is to make it user friendly. That's why it doesn't have the more complex features that many other kind plugins provide.
Aside from that, WPForms is hands down the very best WordPress variant builder on the marketplace.
4. FormCraft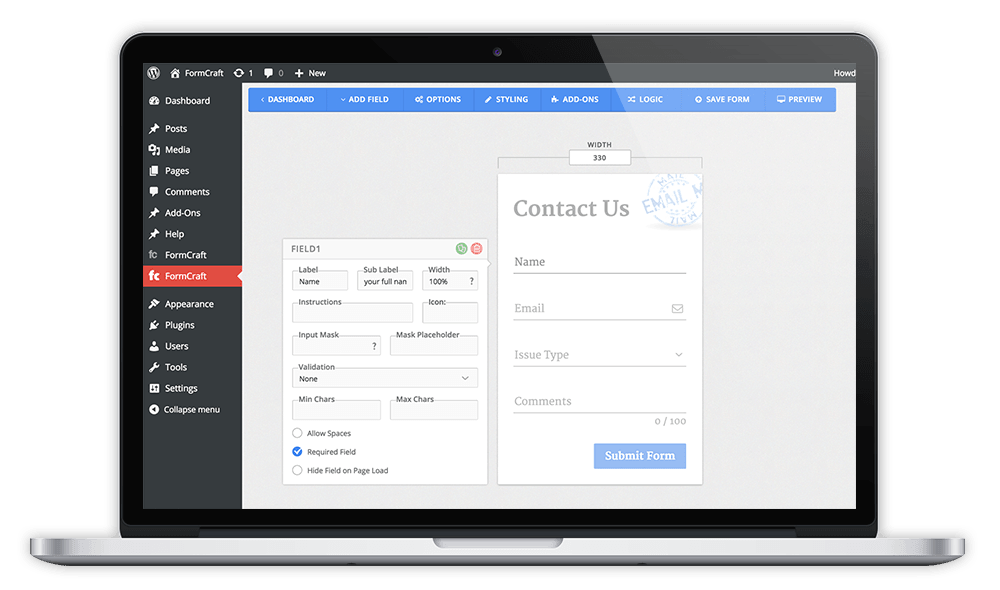 FormCraft offers a drag & drop style of editing in regards to kind building. All you have to do is drag the area you want onto your form.
The developers of Form craft have done a great job in creating a simple UI that may generate complex kinds. As you would expect, you may easily embed forms within the content of a page, but you may also embed them as a popup on any page or trigger a form using a present component on a page.
And there's also conditional logic. You to display and hide areas, send mails or activate integrations, all according to user input. There is even analytics. This permits you to see form views and admissions, check conversion rates and payment conversion rates weekly, monthly, annual, or by habit periods.
👍 pros
this is very easy to use plugin and custom edit page page
it is also a very easy and user-friendly interface
👎 cons
this plugin doesn't have very cons but one is this it is not free if you want to use this plugin so you will buy this from its official website.
5. Jetpack
Jetpack is the next key player in the totally free contact type plugins market right after Contact Form 7.
Actually, Jetpack may do a lot more, and also the touch forms module is just a small aspect of it. Jetpack's forms are easy to use, and they can be added for any page or post during the standard WordPress editor screen.
Conclusion
So I hope you will understand all the best Contact Form plugin. All this plugin is almost free but some also have a pro plane and all are easy to use
if you want to know my point of view of what is the best Contact Form plugin so I will tell you Contact Form 7 is the best in my most os website I an using this plugin it is free and easy to use if you want to visit my website so my website name is HBA Services.